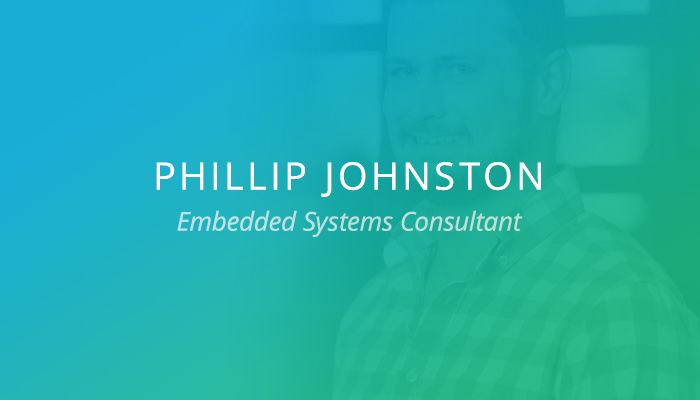 For this customer spotlight we focus on Phillip Johnston, an embedded systems consultant. You can follow Phillip's work on his website.
What do you do for a living, and why did you make the jump to self-employment?
I'm a firmware developer, which means that I write the software that runs inside our electronic devices (things like microwaves, cameras, phones, cars, and airplanes). My work tends to be very cyclic and punctured with long periods of waiting. I don't like sitting in the office doing nothing and I don't like writing the same software over-and-over again. By running my own business I am able to take advantage of the natural project lulls by working on multiple projects, developing libraries to leverage in the future, or simply taking more time off.
What's a big challenge you've had with running your own business, and how did you overcome it?
The biggest challenge I've had in my business so far is late payments. This was especially true when I first started. I was desperate for money and took on any client that was interested in my services. Many of these clients were not thoroughly screened and later went on to repeatedly pay late (or not at all!). Now that I have some cash buffer, late payments aren't so terrifying to me. However, I've also become more diligent about screening clients up front. I've added late fees to my contracts. I also request a small deposit before work begins. Often this deposit will screen out cheapskates who are likely to cause you problems in the future. Interestingly, as my rate has increased the occurrence of late payments have decreased. There's a lesson in there somewhere!
What advice would you give to someone just starting out on the journey of running their own business?
There will be many days where running your business feels impossibly hard. Your client didn't pay you, your proposal was rejected, or you have so much work you're losing your mind. Just remember to step back and take a moment to breathe. Every business owner experiences great moments of doubt, so you are not alone and you are not a failure. You rarely have to give up, and if you need extra cash during a hard time you can always get a part-time job :)
What quality, habit, or decision has contributed to the success of your business?
I do no client work on Thursdays. Instead, I focus on my own business. I review my progress toward my goals and make sure that my business is running smoothly. I spend ~30min reviewing my finances and handling other miscellaneous office tasks. I then focus on developing assets that I can re-use for future projects (scripts, document templates, informational sheets, software). It's easy to forget to manage your own business when you could instead work another billable hour. Dedicate time to growing and developing your business and focusing on your internal goals.
How has Harpoon helped you as a business owner?
Harpoon is very important to me. I primarily use three tools to run my business: Harpoon, Quickbooks, and Evernote. Harpoon has allowed me to manage all of my projects from a single place. I track all of my billable time inside of Harpoon. I can also set limits for each project, which prevents me from focusing too much on a single client or going over limits I've set for myself. I especially love the goals and metrics. I can see how tracking to my yearly target, whether I have earned any vacation days, and who's paying me late.
About Phillip
You can keep up with Phillip and his work via his blog, newsletter, or on GitHub where he regularly contributes to his open source libraries for embedded systems engineers. Thanks for sharing Phillip!