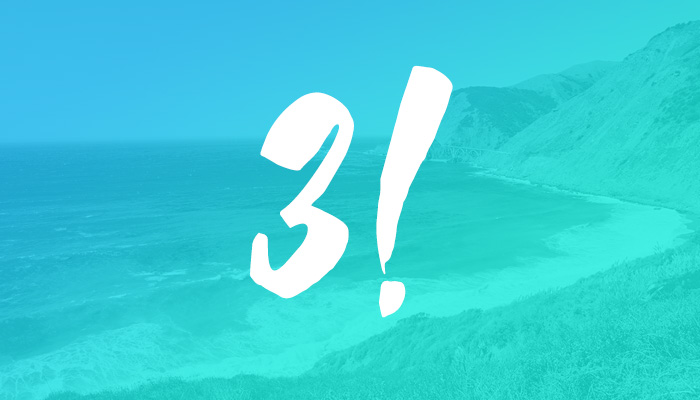 After more than a year of planning, designing, building, and testing we're proud and excited to announce the launch of Harpoon 3!
With 100+ new features and improvements Harpoon 3 is the result of hundreds of conversations we've had with our customers, which range from large creative agencies to independent freelancers, and teams of all sizes in between. Whether large or small each of our customers bill clients for a living, and each have the same end goal for their business: profitability.
At Harpoon we've always believed a crucial key to profitability includes not only being reactive to your financial past, but also being proactive by planning and forecasting your financial future. It's this forward thinking, goal-based approach to finances that separates Harpoon from other billing and time-tracking products. And for Harpoon 3 we've doubled down on our unique class of budgeting and forecasting tools.
Note: Not interested in reading the long-winded details? You can skip to the release notes at the bottom of this article for an abbreviated list of new features.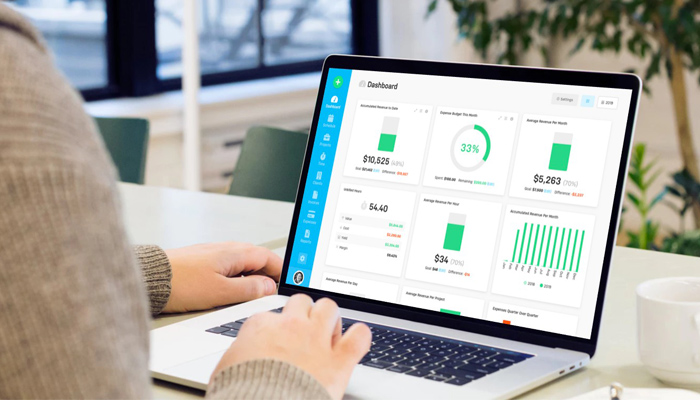 Project Budgeting
You might already be familiar with Harpoon's existing ability to budget hours for your projects. It's been a great way to ensure your team doesn't spend more time on your projects than originally planned. With Harpoon 3 we've taken project budgeting to the next level!
An important part of budgeting is trying to predict how much of your time and resources you can afford to spend on a project when compared to the (actual or planned) revenue generated from the project. In Harpoon 3 it's the predictive aspect of budgeting that we've worked hard to implement.
Project Types - First we've added the ability to designate a project "type" when creating a new project, which includes Hourly, Fixed Fee, and Non-Billable types. Designating a project type allows Harpoon to create project budgets that specifically cater to the way you plan to bill for the project.
Hourly Budget - As you might have guessed, when selecting a project type of "Hourly" Harpoon will focus on tracking an hourly budget for the project, including the ability to automatically "reset" your budget on a daily, weekly, or monthly interval (handy for retainers or other types of ongoing projects). You can then easily add your team's recorded hours to an invoice(s) for the project and Harpoon will automatically update the status of those hours from "Unbilled" to "Billed" for convenient record keeping. All the while it's easy to see at a glance how far under (or over) budget you happen to be.
Fixed Fee Budget - When the project type is set to "Fixed Fee" Harpoon makes available a new Fixed Fee Budget. With this type of budget you start the project by entering the amount of money you plan to bill for the project. Harpoon will then start tracking the total amount actually invoiced for the project against the fixed fee amount you've set up in your budget. When creating invoices for the project Harpoon will even show you on the invoice how much money is left in the project's fixed fee budget so you don't accidentally over bill the client. Not only that, but based on your fixed fee budget (combined with other metrics like your average hourly rate, team member cost rates, etc.) Harpoon will automatically generate an appropriate hours budget for your fixed fee project to ensure your labor costs stay in line with the amount you plan to bill. This also works great for tracking time against a fixed fee retainer balance. And yes, the automatic daily, weekly, and monthly "reset" feature is available for fixed fee budgets too!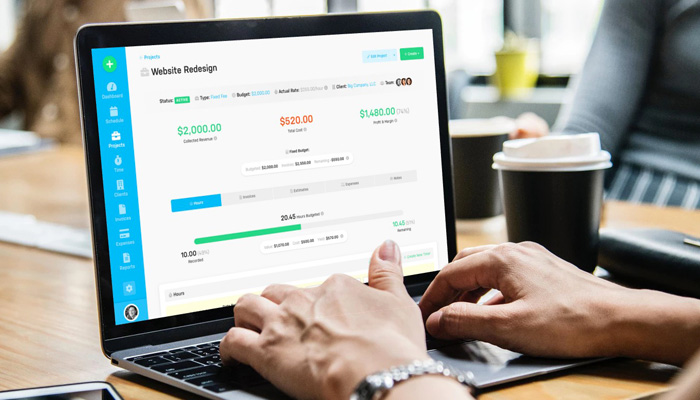 Project Budget Calculator - The budgeting features I've described so far are great for making sure the amount of work produced for a project is in line with the amount of money you plan to make. But how do you plan that amount in the first place? Enter Harpoon's new Project Budget Calculator. First, the calculator will tell you how much you can plan to bill for the project based on the number of hours you've budgeted (for Hourly projects), or how many hours you can afford to spend on the project based on your budgeted fixed fee amount (for Fixed Fee projects). Next the calculator will predict your labor costs for the project so you have an idea of the impact the project will have on your pocket book. And finally the calculator predicts the project's overall profit and margin assuming you stick to your budget. This is all information provided by the calculator at the start of the project before you've even begun the work! And you can even experiment with your Hourly and Fixed Fee budgets (and other metrics like hourly rates and cost rates) and see the calculator update in real-time! This is a powerful way to predict profitability at the start of a project vs. scrambling to adjust your project budget later when many times it's too late.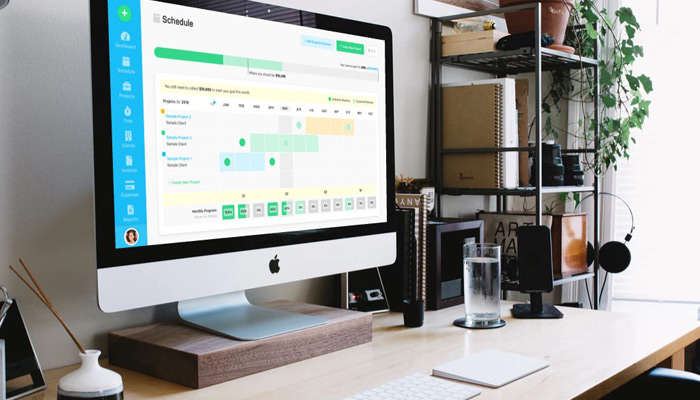 Forecasting
It's no surprise Harpoon's Schedule is one of the most popular screens in the product. It's here where you can track progress on your business's yearly revenue goal, and see that goal broken down into smaller, dynamic monthly goals. It's on the Schedule where you can map out your client projects and see how the revenue collected from those projects is affecting your monthly and yearly goals.
But at its core the Schedule is designed to be a powerful revenue forecasting tool, enabling you to look ahead in the calendar, predicting the amount of revenue you're expecting to receive from your projects. For Harpoon 3 we've made expected revenue tracking even more powerful.
Unbilled Hours - This is a new source of expected revenue we're introducing in Harpoon 3. Every hours entry your team records in Harpoon 3 has a unique value associated with it. This value is based on custom hourly rates that you have complete control over, whether on a global, client, or project level. This means Harpoon 3 has the ability to calculate how much expected revenue you can plan to receive from all of the unbilled hours across all projects in your account even before you've had a chance to bill for those hours! Every day your business's expected revenue will automatically update based on the work your team performed that very day. And when you do get around to billing for those hours Harpoon is smart enough to automatically track those hours to your invoices so that the hours aren't counted twice as expected revenue in your account. It works like magic!
Fixed Fee Budgets - This is another new source of expected revenue we've added to Harpoon 3. When creating a Fixed Fee project you'll enter the fixed amount you plan to bill for the project. This becomes the project's Fixed Fee Budget. Harpoon uses this Fixed Fee Budget as a source of expected revenue and displays it on your Schedule. And Harpoon is smart enough to properly balance a project's Fixed Fee Budget with any invoices that are being created for the project so that your expected revenue for the project isn't artificially inflated. In other words this gives you the benefit of including a project's fixed fee amount in your expected revenue calculations before you've even created an invoice for the project, and as you do create invoices Harpoon will automatically keep the project's expected revenue amount balanced and accurate!
Unpaid Invoices - Just like in Harpoon 2 all of your unpaid invoices will continue to be tracked as expected revenue in Harpoon 3. When you create invoices in Harpoon the outstanding balances of each invoice will be calculated as expected revenue for your business with those amounts displayed on your Schedule based on the date of each invoice. As an invoice becomes paid Harpoon will automatically convert those amounts from expected to collected revenue in your account.
Future Recurring Invoices - This is another source of expected revenue we've carried over from Harpoon 2. When you create a recurring invoice template Harpoon will automatically track the future amounts of those invoices and display those amounts as expected revenue on your Schedule based on the dates each future invoice is scheduled to be generated. This turns recurring invoices into a powerful forecasting tool, especially handy for projects like ongoing retainers or other recurring services you provide your clients.
Manual Entries - We've also carried over this feature from Harpoon 2. This allows you to manually enter sources of expected revenue that are outside of the sources Harpoon automatically tracks (i.e. unpaid invoices, future recurring invoices, unbilled hours, and fixed fee budgets). Given the improved automation and new sources of expected revenue being added to Harpoon 3 we predict this manual method will be used far less than it was before. But it's still there if you need it.
Expected Revenue Rollover - Previously in Harpoon 2 whatever month on your Schedule an expected revenue amount originally appeared is the month it remained in. In other words if you had expected revenue from an unpaid invoice show up on your Schedule in January then that amount remained in January even if January is now in the past. This has meant in Harpoon 2 you probably had expected revenue scattered all throughout past months of the calendar. This approach had its use cases. But over the last two years we've become convinced those use cases are outweighed by the inconvenience of trying to determine how expected revenue from the past affects your current and future revenue goals. So in Harpoon 3 we've added a new expected revenue rollover behavior. This means Harpoon will continuously "roll over" any expected revenue from each past month into each new month as time progresses throughout the year. This has likely changed your expected revenue metrics for the current month, and now you know why.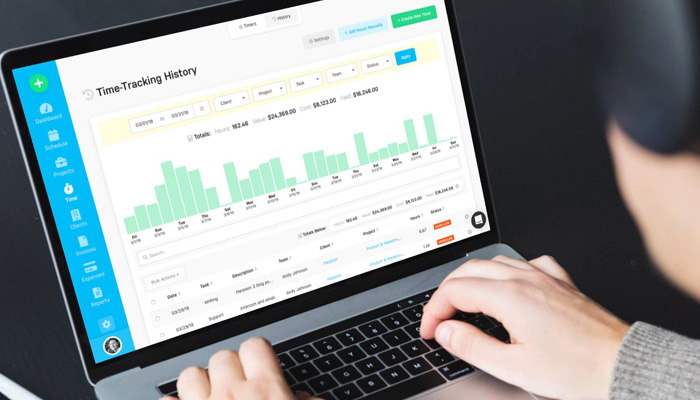 Value, Cost, & Yield - This isn't exactly a Schedule-specific feature, but it does partially fall under the topic of forecasting. Every hours entry your team records in Harpoon 3 now includes a value, cost, and yield calculation. Want to know the internal cost of having that contractor work on those two projects last month? Or want to see the value of all unbilled hours for client XYZ across all their completed projects? Or maybe you want to see the total cost for all the hours your team worked on Non-Billable projects last quarter? The possibilities are endless. No other product we've seen provides the depth of financial insight into your team's recorded hours as Harpoon 3 does!
What's Next?
That's a summary of only a few of the 100+ new features and improvements to enjoy in Harpoon 3. Below you'll find a summary of other new features and improvements to explore. We'll be posting more details about these features in the days and weeks to come, along with an overhaul of our support docs.
From here we're not slowing down. This initial release doesn't even include the new features we're still testing, but weren't quite ready to launch! So expect more surprises (big and small) to come. In the mean time we look forward to hearing your feedback as you dig into Harpoon 3.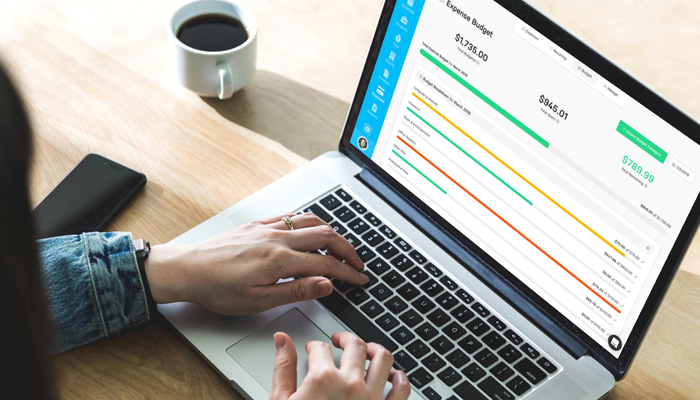 And last, but not least, we deeply appreciate the support and encouragement our customers have provided us over the last year while we've been heads down designing and building Harpoon 3. Your enthusiasm (and patience) provided motivation to keep pushing forward. It feels great to finally share this work with you. Thank you!
Release Notes
Here's an abbreviated list of just some of the new features and improvements you'll find in Harpoon 3:
New redesigned interface.
New mobile-friendly responsive layouts.
New Hourly, Fixed Fee, and Non-Billable project designations.
New hourly and fixed fee project budgets.
New predictive project budget calculator.
New tracking of value, cost, and yield for recorded hours entries.
New automatic hours budget creation based on fixed fee budget.
New project cost calculations including both labor and non-labor costs.
New project profit and margin calculations.
New Project Summary report.
Improved hours budget tracking for projects.
New ability to track time against fixed fee retainer balances.
New daily, weekly, and monthly reset options for fixed fee project budgets.
New cost rate tracking for team members.
New automated expected revenue rollover on the Schedule.
New ability to track unbilled hours as expected revenue on the Schedule on a per project basis.
New ability to track fixed project budgets as expected revenue on the Schedule.
New project visibility filters on the Schedule.
Improved monthly progress summaries on the Schedule.
New overdue invoice indicators on the Schedule.
Improved tracking of unpaid invoices and future recurring invoices as expected revenue on the Schedule.
New weekly hours capacity tracking for team members.
New team member capacity alert notifications.
New ability to duplicate existing projects.
New ability to archive projects.
New project notes design with rich text editing.
New ability to notify team members of new project notes.
New ability to edit existing project notes.
New ability to set custom task rates on a per client AND per project basis.
New "actual" hourly rate calculation for projects.
New custom cost rates per team member per project.
New On Hold status for projects.
New ability to create invoices, estimates, expenses, and reports for each project from the main projects screen.
New date, type, status, and client filters for managing projects on the main projects screen.
New ability to click on status stats to filter the main projects screen.
Improved hours budget display on the main projects screen.
New fixed fee invoicing with fixed fee budget tracking.
New ability to show/hide Quantity and Unit Price columns on invoices and estimates.
New ability to turn on/off late payment reminders on a per invoice basis.
New branding color customization for invoices and estimates.
New accent bar graphic for invoices and estimates.
New font customization (modern or traditional) for invoices and estimates.
New custom titles for invoices and estimates.
New date range, task, and team filters when adding recorded hours to an invoice.
New options to group recorded hours by team member, date, task, or list separately when adding to an invoice.
New custom due dates for invoices.
New line item discounts for invoices and estimates.
New ability to auto-send an invoice on a future date.
New estimate history tracking.
New ability to mark an estimate as sent.
New ability to mark an estimate as declined.
New ability to cancel an estimate.
New Sent vs. Accepted metrics tracking for estimates.
New rich text editing for invoice & estimate notes and line item descriptions.
New email tags for invoice and estimate subjects.
New actions available from main Estimates screen.
New filter bar for managing estimates.
New ability to manually reduce a client's credit balance.
New flow for manually adding payments to invoices.
New filter bar for managing recurring invoice templates.
New average monthly and average yearly recurring invoice stats.
New ability to customize company contact information on a per invoice or per estimate basis.
New ability to attach PDFs when sending invoices and estimates.
New Non-Billable and Fixed Fee statuses for recorded hours entries.
New search field for projects and tasks on time-tracking timers.
New ability to duplicate an existing recorded hours entry.
New ability to enter and display recorded hours as decimal or HH:MM formats.
New Dashboard customization for showing/hiding widgets.
New Mileage dashboard widget.
New Expenses Quarter Over Quarter dashboard widget.
New Expense Budget dashboard widget.
New Unbilled Hours dashboard widget.
New Hours Recorded dashboard widget.
Improved Top Lead Sources dashboard widget.
Improved Top Clients dashboard widget.
New Accounts Aging report.
New ability to customize client lead sources.
New Lead Sources report.
New ability to duplicate an existing expense transaction.
Improved support for expense receipts, including PDF attachments.
New average monthly and average yearly recurring expense stats.
New filter bar for managing recurring expense templates.
New monthly notification reminders for recording mileage.
New ability to duplicate an existing mileage entry.
New ability to click expense budget progress bars to view related transactions.
New ability to create projects, invoices, and estimates for each client from the main clients screen.
New Title field for client contacts.
New API and Zapier endpoint for total project hours.
New API and Zapier endpoint for invoice payments.
And many more…