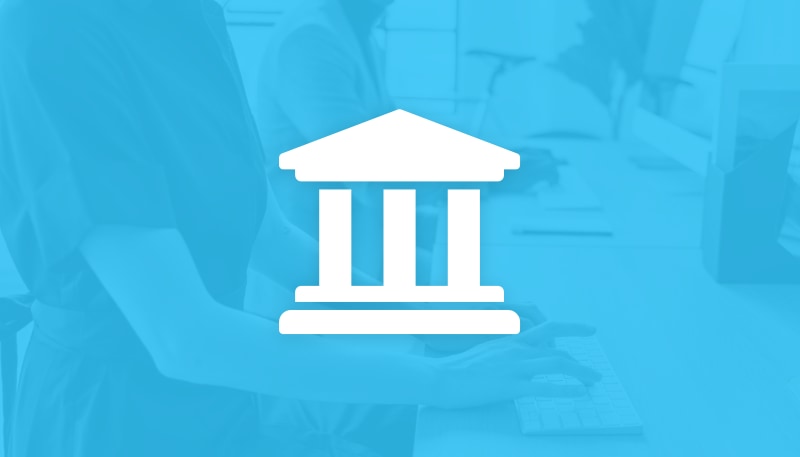 We're excited to introduce ACH bank transfers as a new option for our US-based customers when accepting online invoice payments from your clients! With lower fees than a typical credit card transaction, paired with a frictionless payment process for your clients, ACH payments are one more way Harpoon helps you quickly get paid in full and on time.
The Benefits of ACH Payments
The biggest benefit to you as a business owner are the reduced transaction fees of accepting an ACH payment compared to a typical credit card transaction. For example, when you currently accept a credit card payment from one of your clients Stripe charges a 2.9% fee for handling that transaction (Harpoon does not charge transaction fees).
But for ACH bank transfers Stripe charges 0.8% per transaction with a $5.00 cap. To put that into perspective, a $5,000 invoice paid by your client using a credit card will result in a $145 transaction fee. That same invoice paid via an ACH bank transfer results in a fee of $5.00. Quite a difference!
Turning On ACH Payments
Once your Harpoon account is connected to Stripe (using a US-based Stripe account) you'll see two online payment options available on your Invoice Settings screen: an option to accept credit/debit card payments and an option to accept ACH bank transfers:

With these options checked, all new invoices you create will accept both of these payment methods by default. (You can update the payment methods of any existing invoice by using the "Customize" button when editing an invoice.)
This means that one or both payment methods can be used for each of your invoices. For example, you might decide to turn off credit/debit card payments for a larger invoice to avoid the higher transaction fees, while still allowing your client the convenience of paying via ACH bank transfer.
Making an ACH Payment
Maybe you've had poor experiences in the past making online ACH payments (I know I have), including the tedious process of dealing with routing & account numbers, micro deposits, and confirmation flows. Well we're happy to say Harpoon's implementation of ACH payments is nothing like that. From your client's perspective making an ACH payment will be just as easy as making a typical credit card payment!
When you have the ACH payment option turned on for an invoice your client will be able to select that option directly on the invoice's payment form: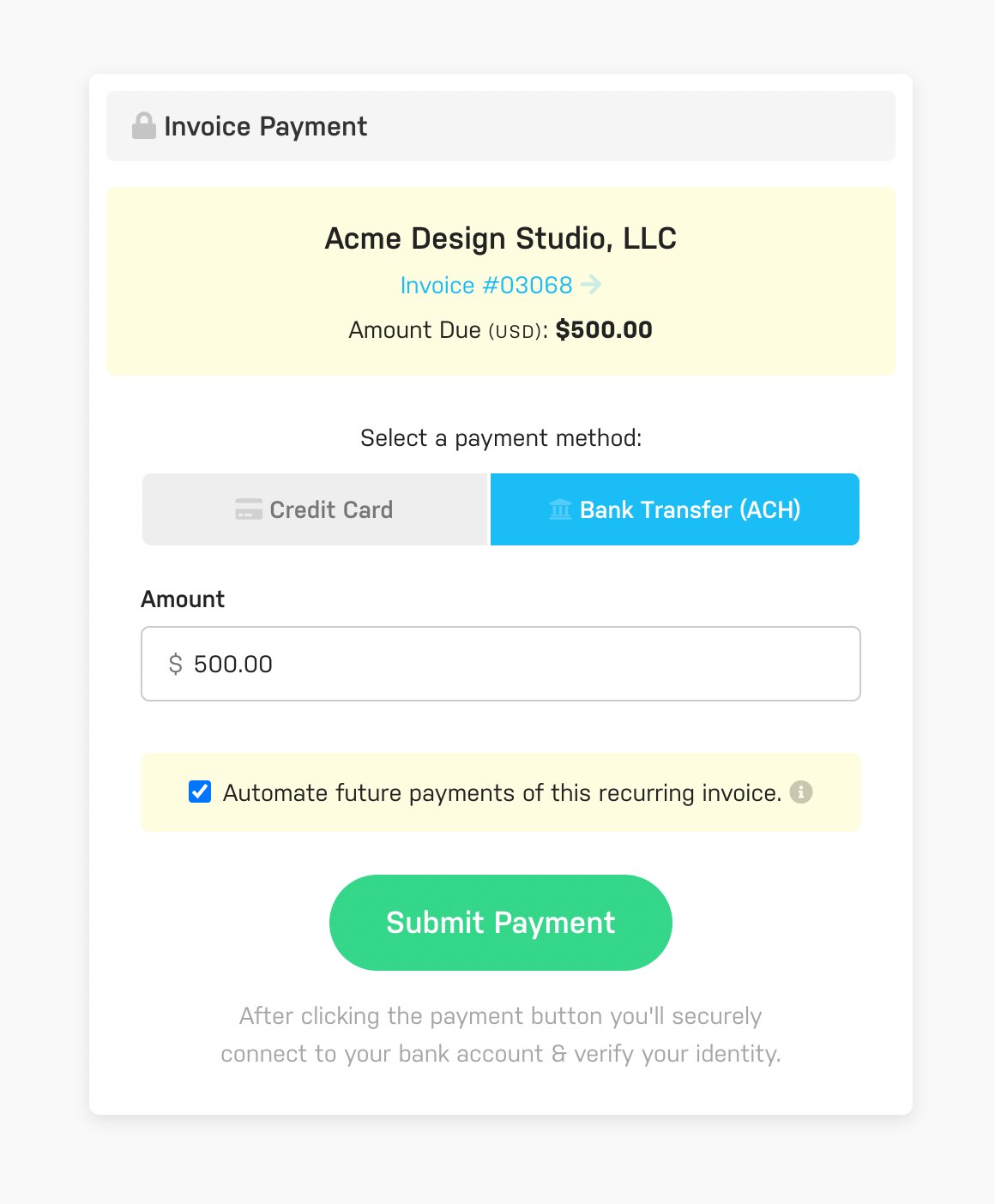 Clicking the "Submit Payment" button triggers a simple form that allows your client to securely connect to their bank and verify their identity, all without leaving the invoice's payment page: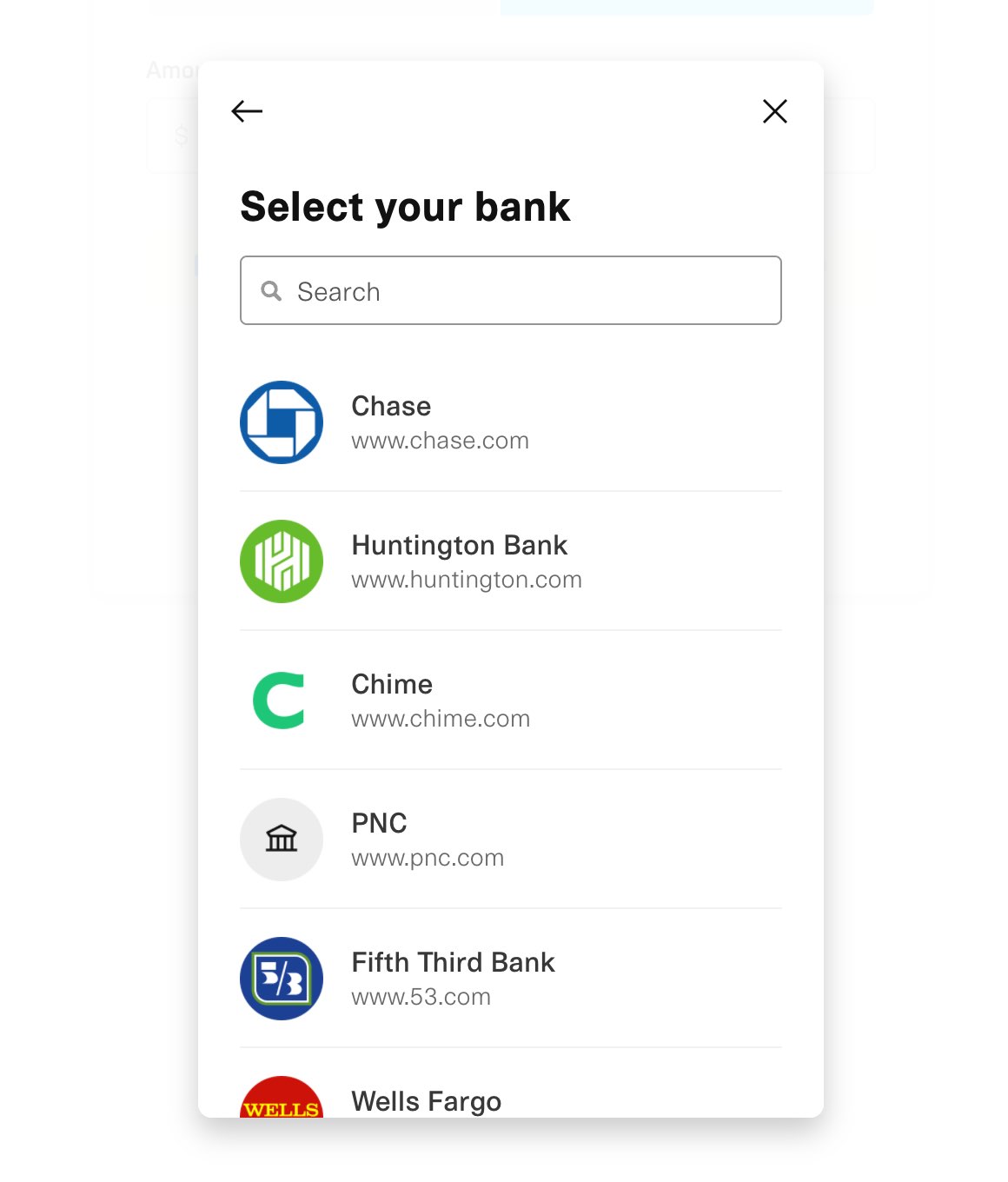 That's it! Your client's part is done.
After your client's payment is submitted it can take a few days for the payment to process and clear. Harpoon will send you an email letting you know an ACH payment has been received and is processing. During that time your invoice in Harpoon will show a status of "Processing" and your client's online view of the invoice will also show an indicator that the payment is processing.
Note: ACH payments that are still processing are not yet counted as collected revenue and therefore are not included in Harpoon's collected revenue calculations throughout your account. It's only after a payment has cleared and an invoice's status has changed from "Processing" to "Paid" that the ACH payment is considered collected revenue.
Auto-Billing and Recurring ACH Payments
Yes, your clients can use ACH bank transfers to pay your recurring invoices, including automatic payments using Harpoon's auto-billing feature. Just make sure you have the ACH bank transfer option turned on for your recurring invoice template(s) and you're good to go.
When a client opts in to auto-billing for a recurring invoice, and pays that invoice via ACH bank transfer, you'll see an auto-billing indicator icon next to the Amount column on your Recurring Invoice Templates screen:

A credit card icon means auto-billing is being paid via a credit or debit card. A bank icon means auto-billing is being paid via ACH bank transfer.
Similar to how your client has access to manage their credit card used for recurring auto-billing, they can also manage their ACH bank account used for recurring auto-billing. When they visit any of their online recurring invoices that have ACH auto-billing activated, your client will see a couple options next to the invoice that allows them to update their bank information or cancel auto-billing: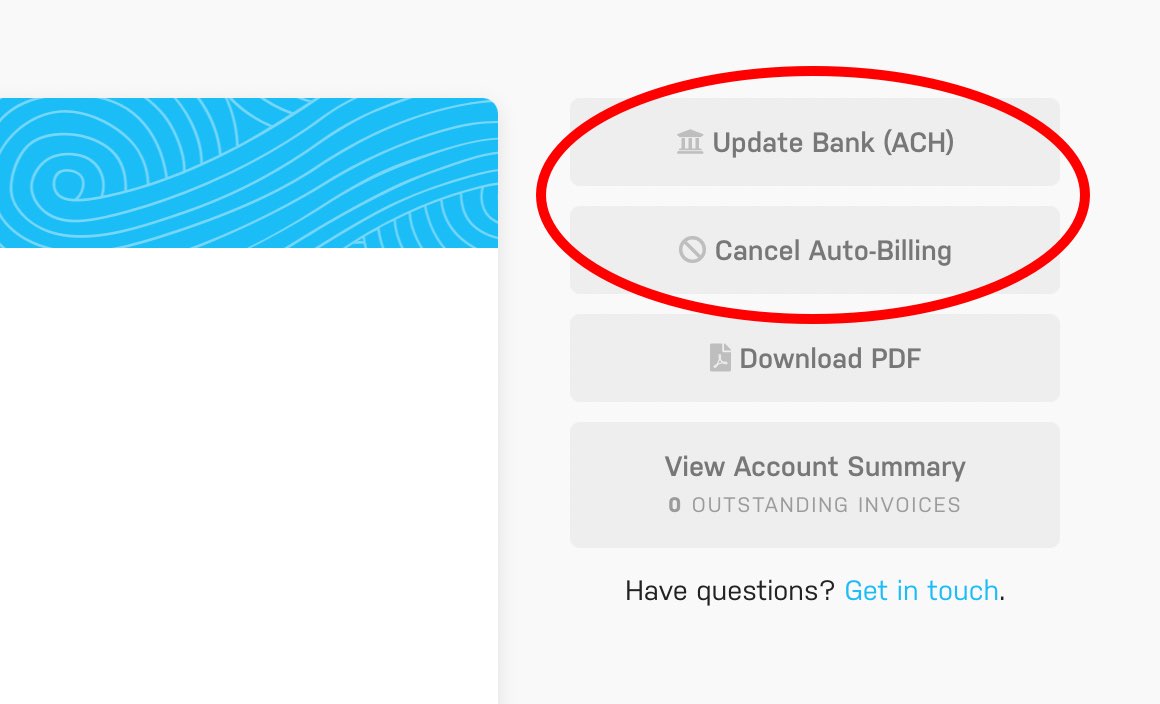 In Conclusion
As business owners we often prefer our clients pay via check to avoid the transaction fees of credit card payments. But our clients often prefer paying by credit card to avoid the hassle of mailing out a check. Harpoon's ACH payments provide the best of both worlds: a frictionless experience for our clients, and an inexpensive way of collecting large (and small) online invoice payments.
We hope this feature adds to the value and convenience of using Harpoon to manage your billing and finances. Have questions or suggestions? Let us know!