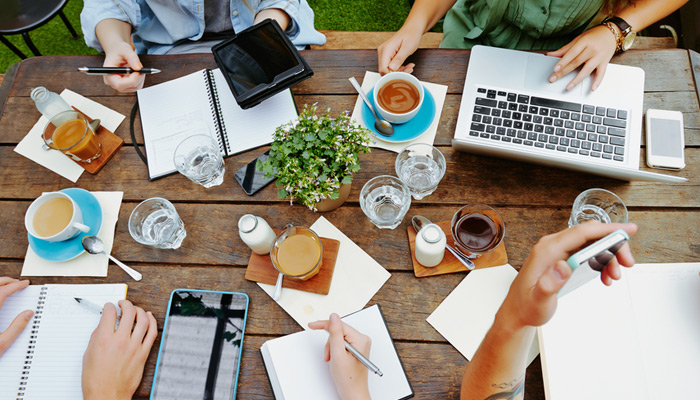 Independent freelancers and consultants have always been a core focus for us at Harpoon. But starting today we're also making it incredibly easy for studios and agencies to benefit from Harpoon with our new Team features. You can now invite business partners, project managers, staff, and contractors to your Harpoon account. Here's how it works:
To invite a team member start by visiting your new Team screen. This is where you'll manage the different members of your team. Click the "Invite Team Member" link.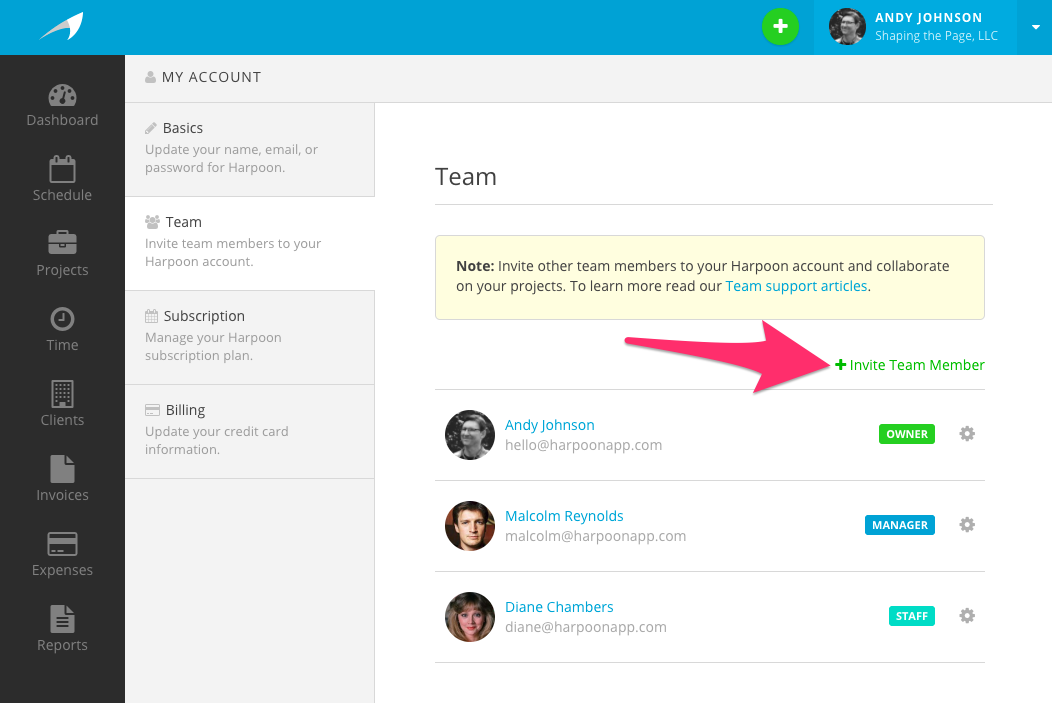 You'll be presented with an "Invite Team Member" form.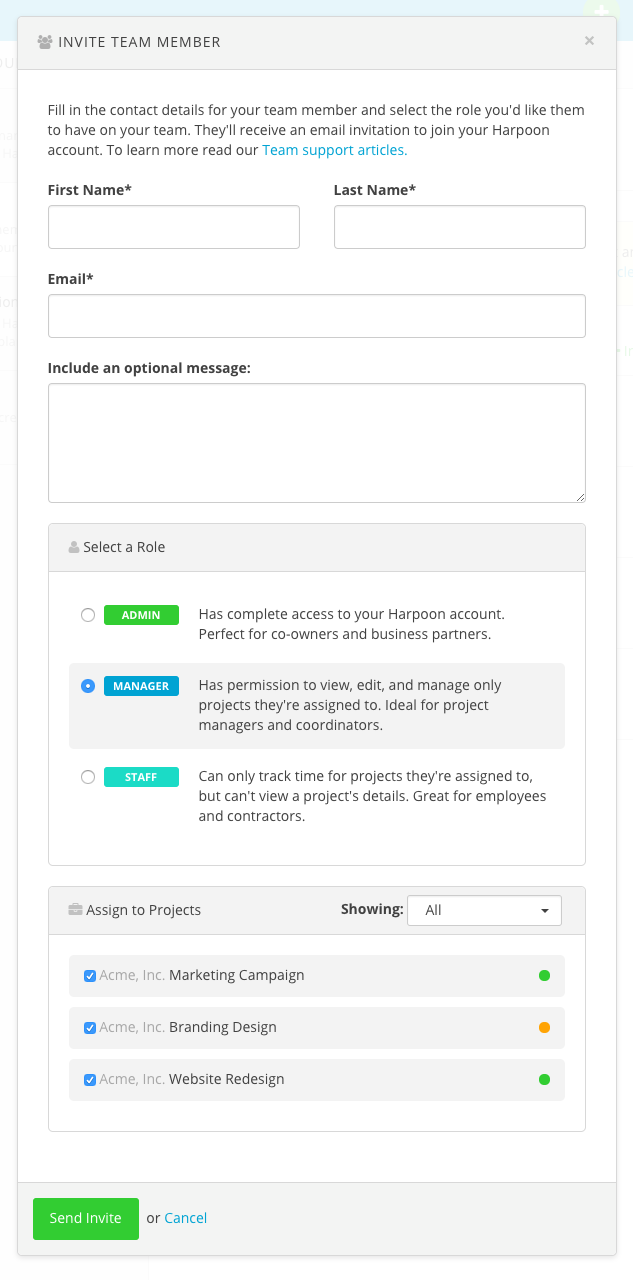 This form is divided into three parts:
Contact Information: Provide the contact information for your team member. You can include an optional message to accompany the invitation email they'll receive.
Select a Role: Each team member you invite is assigned a role. The roles determine the level of account permissions a team member is given. The available roles are:
Admin: This role gives the team member complete access to your Harpoon account. The only thing an Admin can't do is manage your account's subscription. Only the Owner of the account can manage the account's subscription. The role of Admin is perfect for co-owners and business partners.
Manager: Managers have permission to view, edit, and manage projects, but only projects they've been assigned to. Managers can view the Project Details screen for their assigned projects, as well as create invoices and estimates for those projects. But they cannot send invoices or estimates to your clients. Only Admins and the Owner can do that. The role of Manager is ideal for project managers and coordinators.
Staff: Time tracking is the only feature that Staff have access to in your account. And they can only track time for projects they've been assigned to. Staff cannot view Project Details screens, only the dedicated time-tracking screens. The role of Staff is great for employees and contractors.
Assign to Projects: If you've selected either Manager or Staff for your team member's role you'll be given the option to select any projects you'd like to give your team member immediate access to. (Note: If you selected the role of Admin you won't see this option since Admins already have access to all projects by default.)
Now you can click the "Send Invite" button and your team member will receive an email invite to join your team.
You can always manage the roles and project assignments for your existing team members by clicking a team member on your Team screen and editing the resulting "Team Member Details" interface.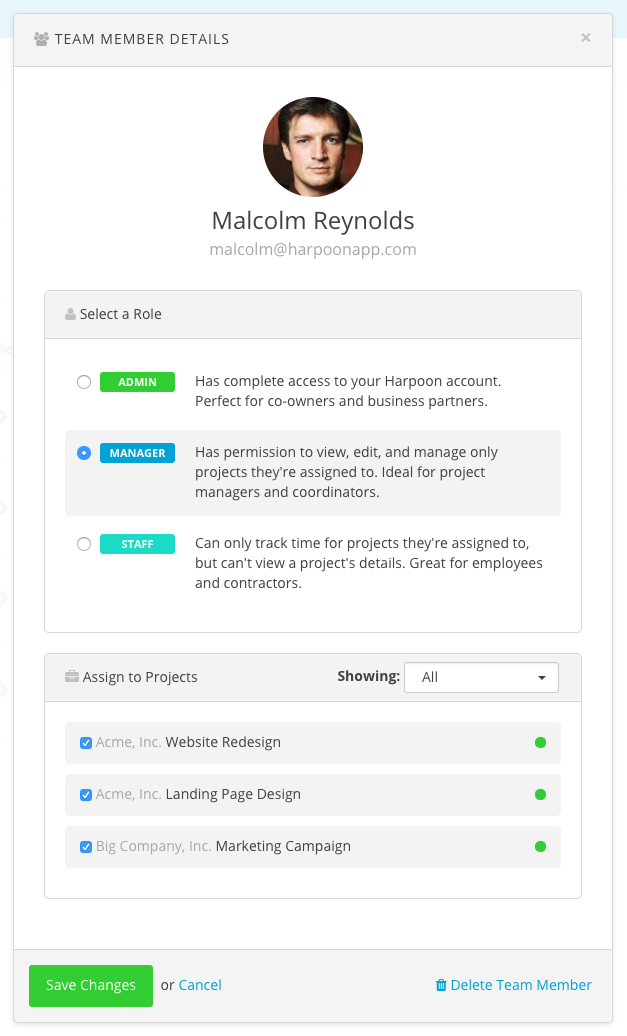 And you can also manage team members on a per project basis when creating or editing a project.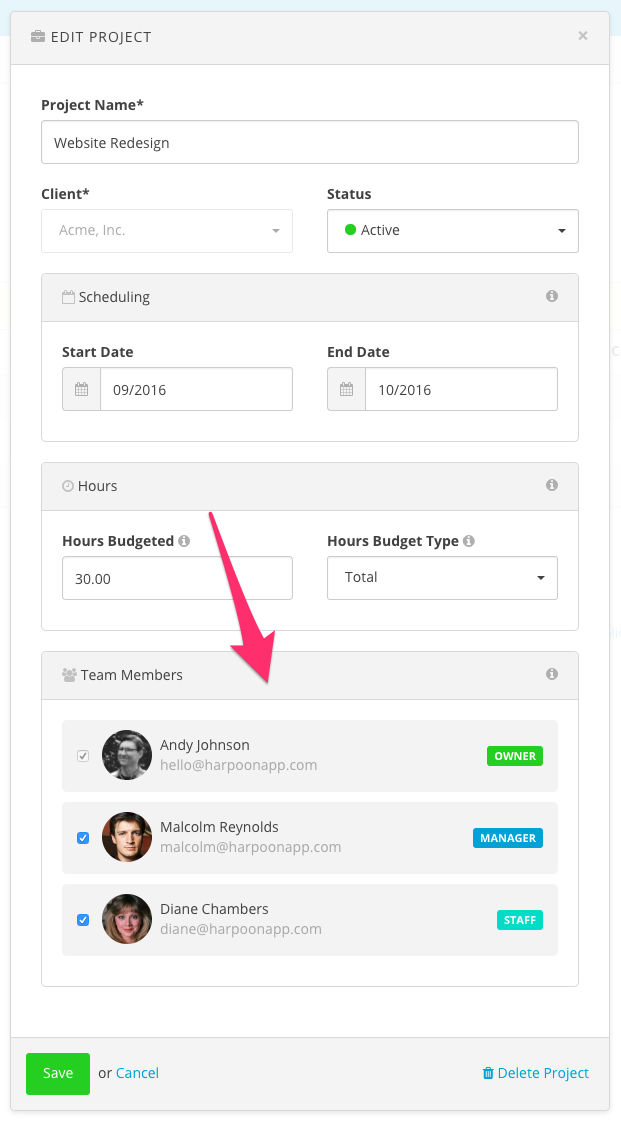 That's all there is to it! Like Harpoon's other features, we've worked hard to make managing team members and collaborating on your projects a simple and straightforward process.
Which brings us to pricing. With the introduction of Teams we're offering a new set of subscription plans tailor-made for different team sizes. The price of your current subscription will not be increased. But if you have a growing team you can easily upgrade to one of our new plans via the Subscription screen in your account, or feel free to check out the new Pricing page on our marketing site.
Independent freelancers and consultants have always enjoyed the financial planning, time-tracking, and billing benefits of Harpoon. So we're extremely excited to extend those benefits to studios, agencies, and other multi-person teams. Enjoy!
To learn more about teams view our Teams support articles.