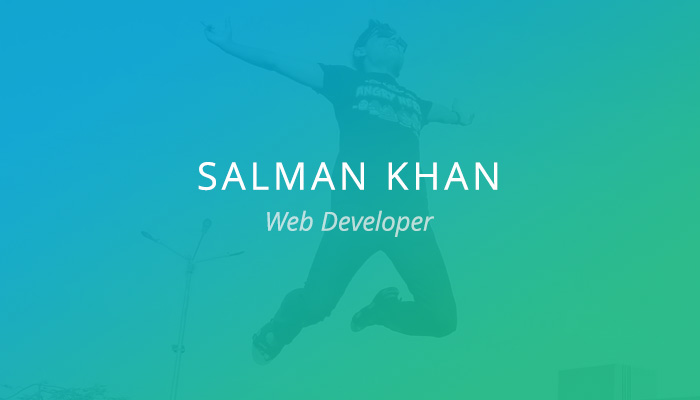 For this customer spotlight we focus on Salman Khan, founder at Dezign Burg. You can find Salman on Twitter at @DezignBurg.
Provide us with a little background: How long have you been self-employed? What type of work do you do? How did you get started?
I'm a web developer, web designer & web security researcher. I started working 4-5 years ago as a freelancer, then I slowly made my own web solutions company: Dezign Burg. My company provides services like web design, web development, graphics design and website security audits. My passion is helping startups discover their security weaknesses, and I also spend my time participating in "bug bounty" programs.
If you could go back in time, what advice would you give yourself when you first went out on your own?
Never work on sites like Freelancer.com. The reason why I hate to work on sites like Freelancer.com and oDesk is that your hard-earned cash is held by them, you don't get it directly, and many times the cash just vanished for an unclear reason. But still, such freelancing sites are awesome for newbie developers and designers as it helps them get started.
How have relationships with others had an impact on your success? Did you get to where you are by yourself or did others play a role? How so?
Business relations have always played a great role in my success! I've done business with a lot of people, and a few of them are now my best friends. These friends kept giving me projects when I was in need. At one time, I didn't have many projects to showcase my skills and help me to earn more clients. These friends still keep giving me projects, and have played an important role in my success.
Where would you like to be one year from now in regards to your business?
I would like to be touching the sky, but destiny will see if that happens. For now, I'll keep working hard! As far as growing the business, I already have a few people working for my company, but I don't call them my employees because they're my good friends! We are also working on releasing our own bug bounty program called GetWhiteHats. We will help companies who want to let good (white hat) hackers hunt out vulnerabilities in their application. We are building the perfect platform to manage reports and to reward the hackers, amongst other things.
How does goal-setting factor into the way you run your business?
I have never had specific financial goals for Dezign Burg yet, but I'm planning on setting some within a short time. Though I'm living a beautiful life, there are times when I need to save up for something big. When this happens I just focus on performing on some more website security audits to reach my goals.
About Salman
Salman Khan is a web developer, web designer & security researcher. Learn more about Salman's work by visiting Dezign Burg.