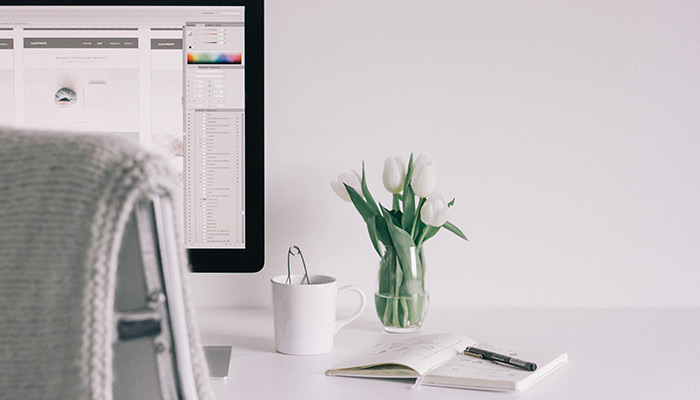 When people need your particular freelance services the first place they'll look is the Internet. You're an awesome freelancer and you offer rockin' services and all that's missing is a website that can help spread the word and grow your business. With the right effort an effective website can be a go-to sales tool in your arsenal of passive marketing strategies. Here are a few tips on how to drive traffic, generate leads and increase income potential.
A Word about Website Hosting
It was fun while it lasted, but it's time say goodbye to 3 rd-party hosting sites like Blogspot, WordPress.com, and Tumblr and invest in a domain name that says you're really serious about your freelance business. Not only is it cheap to self host your site complete with a professional domain name, you'll receive the capacity to grow your online presence.
And while we're on the subject of domain names, your URL should immediately tell potential clients who you are and what it is that you do. For instance, if you're a freelance web developer, you might want to use the terms 'web design' or 'web design services' or 'web development & design' and the name of your city as part of your URL. Another point to make here is if you live in a town the size of Whoville, you might want to rethink your location. You could use the closest city or metropolitan area or even the state you reside in. So a URL might read something like paulsmithwebdesign.com or smithwebdesignseattle.org.
A Freelance Business Website Must Have a Meaningful Landing Page
Call it an overview of your offerings or an optimized resumé or a home page. A meaningful landing page tells your audience exactly what it is you do. Don't ever make potential clients search for vital information about you or your business. Good copy sells your services. Great copy includes why clients need your services and how it can help them. It also needs to set you apart from the pack. If the copy doesn't resonate with visitors they'll exercise their buying power elsewhere.
Whether your business is graphics or web design, it's pretty tempting to want to up your game and showcase your best design up front. Splashy landing pages are one sure way to strut your creativity and expertise. Just make sure download times are fast. In today's game, you literally have seconds to capture someone's attention. Making a potential client wait to find out what they need to know of your freelance business won't cut it here.
Use keywords that describe your skills or services. Without delving into great depth about SEO, you will want to use terms that you think people would use in a search to find you. If you provide multiple services, place search terms in the meta data of your site, including the title and description.
A Freelance Business Website Should Be More than Just a Business Card and a Portfolio
Until you have enough repeat business and a vast network of clients, your website has to be more than just a showcase for your work. Here we look at a few areas that with a little focus can let the value you bring to future prospects shine:
Services – What would a freelance website be without telling visitors what it is that you do? This is the page where the focus is how those services solve issues, saves or makes them money, or both. I hate to say this, but this isn't about you. It's all about the clients you want to work with and how you can help them.
Testimonials – Nothing sells your freelance business like past happy clients. Written proof from past clients boosts credibility. It's a gift that keeps on giving. According to a blog post published by Kissmetrics, social proof techniques like testimonials and case studies can be extremely persuasive because people are influenced by others in similar situations. Social proof can erase doubt from anxious clients can be the deciding factor for a visitor that remains "on the fence." Check out a survey of 800 consumers by PowerReviews that indicates 86% of Americans believe reviews or testimonials are an essential resource in purchase decisions. As you collect testimonials spread them on the high traffic web pages of your site.
Blog – Nothing can build credibility like a blog. But to really take advantage of its value, its focus should be subjects that interest current and potential clients. It's also a great place to answer questions about your business, the process behind working with you as a freelancer, an opportunity to discuss industry issues related to your services or offer clients business advice. How often to blog is a question that gets asked quite often. I know freelancers who blog every day or as time allows and some who blog once a week. As long as it doesn't cut into the time you need to pitch your services, blogging can easily market yourself and your business quite effectively.
Email Opt In for Freebies – Depending upon the services you offer, good freelancers rev up their passive income by offering a few freebies. The sky is pretty much the limit here. Use your imagination. It can be an e-book or a monthly or weekly newsletter. If you're short on time, and who isn't these days, offer a weekly email that offers productivity tips or talks about recent mobile apps that boost creativity or saves them money. You can also offer a white paper, case studies, a report or checklist; basically anything that helps them with their business, provides insight or gives them a reason to reach out to you. Regardless of what you're offering, an email opt-in on your landing page remains one of the best methods to turn prospects into clients.
Contact page – At the heart of everything you do for your freelance business, realize that above all else people hire people not just their services or skills. Placing your photo on your contact information page lets prospects know that you're human. It's also a nice touch to type up a short bio and say something about yourself as a person. It can be how you love dogs, your contributions to charity or the fact that you hate coconut. It doesn't matter as long as it's harmless and fun. That element of warmth makes you come across as approachable; someone they want to know. Don't forget to mention all the ways potential clients can reach you. Besides a phone number and email, suggest they connect with you on Skype, LinkedIn or Facebook.
Select Social Media Networks that Help Your Freelance Business Grow
It's really tempting to place an icon of every single social network you belong to on your website. But before you place an icon that links to your social media profile make sure you're connecting with your most active social media audience. Just because a social media site has a large number of overall users doesn't mean they're all active participants.
Where is your audience searching? Does posting on Pinterest make you more money? Does it sell your services? In other words, be selective about which social media sites effectively promote your business. Also you may decide that you need to create social media profiles that separate your personal life from your business.
Certainly these tips just skim the surface. What have you tried on your freelance website that generates leads or income?