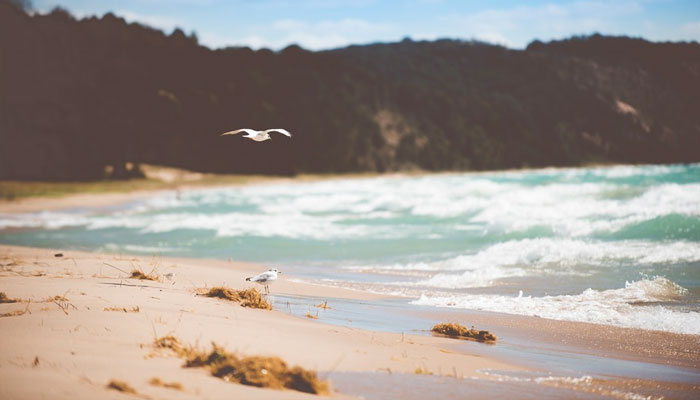 Going through a freelance slump? Don't worry, it happens to the best of us. One month you're killing it, the next you're e-mailing old clients to see if they don't have any business to throw your way. Slow times come with the lifestyle. And as long as your plan your finances accordingly, you can actually learn to enjoy the free time or use it brush up on your skills and even develop new ones.
Unfortunately, it's common to stress over your sudden lack of projects. That's why I always advise new freelancers to build up a sturdy emergency fund to get them through the rough times. Having money set aside allows you not only to be more picky about the assignments you take on, but also keep stress levels in check once things slow down. You have a much better chance of keeping your cool when you don't have to worry about making rent.
Slumps can be either seasonal – regardless of your industry, don't expect to get much work done at the end of December – or sudden. You do well for a couple of months, and then you wake up with an entire free week ahead. Whichever the case, it doesn't mean you can't use this time to improve your business and stay productive. Or maybe go with the other approach and take a few days off to relax and recharge.
Here are a few things you can try to make the most out of this unexpected break from work.
Chill
While your first instinct may be to hyperventilate, take a breather instead. If you've got enough cash to tie you over, why not take advantage of this time to really take a break? Go on an impromptu trip, spend time with your loved ones, reconnect with old friends, catch up on Netflix. Whatever helps you relax and makes you happy. Don't view the slump as a burden, but as a gift. You suddenly have all this free time available, so it's OK to embrace the opportunity and recharge your batteries. Whether that means partying with your homies or re-reading your favorite book.
Network
Business being slow is no excuse for you not to prepare for your next big project. You never know where your next client might pop up from, so you can use this time productively and do a little networking. Go to conferences in your area and swap business cards with potential customers or re-connect with old ones you loved working with. Just shoot them a message asking how they are and inquiring about any projects you might be a good fit for.
Plus, you can use this time to build your own "support tribe," if you want. Personally, I find freelancing quite isolating. Even though I'm an introvert, I often crave connection when spending eight hours per day crunched over my desk, working on an article. That's why I believe it's important to reach out to other freelancers and maybe even try to find a mentor to guide you along the way.
A freelance slump is a great opportunity to find other individuals in your community who might be looking for some face-to-face connection as well. Maybe you can meet up and work together at coffee shops every now and then or rent a co-work space together. Look online to see if there are any self-employment groups you could join. Or, check online networking platforms like Meetup for any upcoming events where you could meet interesting people. There are plenty of useful things you can learn from other self-employed fellows out there. Moreover, who knows? This might even lead to some exciting collaborative projects in the long run.
Give Your Website a Facelift
When business is booming, you're tempted to let a lot of mundane tasks slide. Now is the time to catch up on them. Tackle all those not-so-urgent tasks you successfully ignored in the past; like backing up your work or updating your online portfolio. Give your website a facelift to make it more appealing to potential clients. Design a fresh batch of business cards or marketing materials. Re-assess your pricing plan and see if it may be time to raise your rates. In other words, pay special attention to all the aspects of your business you avoid when looming deadlines keep you busy.
Write Stuff
This particular piece of advice isn't for freelance writers only. In fact, I strongly believe that writing quality content will help you regardless of the industry you freelance in. Contributing to sites like Medium or publishing posts on LinkedIn is a great way to reach a new audience and dazzle them with your extensive knowledge and skills. You can put together a tutorial, give advice to newbies who are looking to break into the industry, share tips about what you've learned along the way. Even better – start a blog if you don't have one yet. Or a newsletter. New leads will turn up in a jiffy.
Learn Something New
I've always loved Italian, but somehow never found the time to really study the language. I would also love to learn how to code, at least some basics, and would welcome the opportunity to read more about content marketing. How about you? Any similar thoughts? Then take this unexpected time off to brush up on your skills or learn some new ones. You'll improve your resume and gain a welcome confidence boost. Maybe you'll even be able to offer new clients additional services once business picks up.
Reflect
You likely had some goals when embarking on this freelancing adventure. How far have you come? What went well during the last few months? What didn't? What can you do to improve? A slump is the perfect time to reflect on how you conducted yourself professionally so far and figure out fresh ways to improve your small business. Brainstorm stronger pitches for potential customers. Think about how to go the extra mile to keep current clients happy. Research the industry and come up with a new business plan that will allow you to reach a wider audience and expand your client base.
Freelance slumps don't have to cause panic. As long as you stay motivated and use the tips above to keep your sanity when business is slow you'll make it to the other side wiser and busier than ever. Clear heads, full confidence, can't lose!