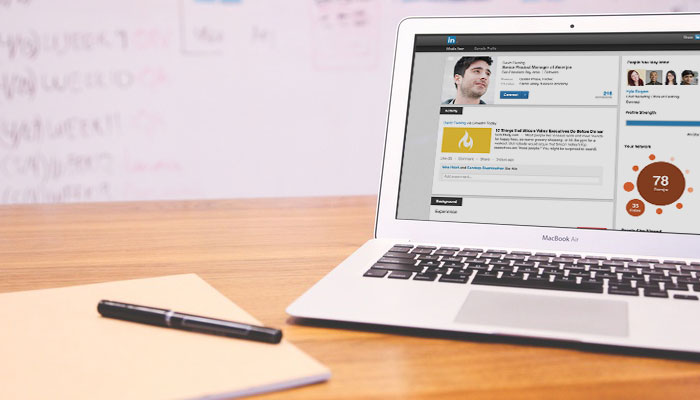 At the start of 2015, LinkedIn became the largest professional network on the planet reaching 364 million members from over 200 countries. Two new members sign up on LinkedIn every second. With that kind of reach, freelancers and consultants would be crazy to pass on LinkedIn.
Still not sold?
What if I told you that 41 percent of users say that it's helped them build new relationships with clients? Once known as merely a resume repository, LinkedIn has now become a major draw in finding potential clients and increasing traffic to websites.
But there's just one thing that's holding you back and it's a biggie.
I'm afraid it's your LinkedIn summary. It may be keeping you from attracting your ideal clients.
So, here's what you need to do to seize the power of LinkedIn and put its passive marketing features to work for you.
Targeting the Right Viewer with Your Summary
The best editor I've ever had gave me this little piece of advice: "Read what you've written out loud, and as if you were the audience. Are you bored? Is it bland?" If a potential client were reading it, would they want to learn more about you or fall into a deep sleep? If you just slapped an abbreviated version of your resume's objective, then it's time to rethink and rev up your profile summary.
If your summary sounds like you're searching for a job, you need to reposition it. Target your LinkedIn summary to reach the clients you want to attract. Your summary section can accommodate 2000 characters. It's enough space to tell your prospective clients not just who you are, but what you do and how you can help them.
Explain in a creative and authentic way just how your freelance skills can solve their most pressing business issues. It's an opportunity to present the best of who you are by giving a great first impression.
LinkedIn now gives its members the ability to post videos, slideshares, documents, images and more right within the summary. Of course you can use this feature to post your best portfolio work. But, if you really want to hit it out of the ballpark, get a video recommendation from a trusted client and post it. If you can't write for beans, a video can be a surefire way to keep your audience riveted long enough for them to click on your portfolio or click that link to your website.
Most of all, write as if you were talking to your "ideal" client. Keep it in a conversational tone, while building a summary around your value proposition. Remember, your main objective is to attract clients, not find a job. That also means to the leave the "hard sell" off the page. Start with a conversation and work up to engagement. At the end of the day, this isn't a sprint; it's a dance.
Don't Use a Bland LinkedIn Headline
Do you realize that your headline is the most important field in your LinkedIn profile? It displays throughout the LinkedIn platform whether you're posting an update, commenting on a discussion or connecting with others.
With 80 characters, you can make it so compelling that it inspires people to click and view your profile immediately.
Case in point, which headline would you click to find out more about a member:
A motivated designer providing quality customer service to a variety of clients.

A master of design poised to create your next award-winning print project.
When writing your LinkedIn headlines, always start with a title and then follow-up with what you can offer your clients.
Include a Call to Action
At the end of your LinkedIn summary, provide your audience with a little guidance. Tell them what it is you want them to do, and what it is you hope to accomplish.
If you're ending your summary with only a link to your website, your profile visitor may need a little incentive. A clear and strong call to action shows you have confidence in both your skills and your value.
Don't be afraid to reveal your sense of humor. Of course, you want to be professional, but who said professional had to be the equivalent of boring? If you want to convert that casual connection into something more, start by being original.
Remind them again how your expertise can help them, and ask them to reach out to you by email or phone.
Add Rank-Boosting Information
More people than ever are searching LinkedIn. With advanced search features, you can now find employers, contractors, freelancers, experts, companies, and more.
By optimizing your profile, you make it easier for people to find you. It also increases the chances of them calling or emailing you about a project opportunity. Be sure to include keyword phrases that describe your skills and your specific niche. Don't forget to include keywords people would use in a search to find you.
Place these phrases throughout your profile beginning with your headline. Keep in mind that LinkedIn gives rank priority to publications, recommendations and awards with the appropriate key search terms. This approach is especially important if you're looking to increase your credibility or social proof.
Not sure which terms apply? Ask any of your clients who found you on LinkedIn. Ask them what key terms they used to find your skill set. LinkedIn also gives its members the ability to check stats on chosen keywords. Use it to gauge how well your profile is doing and make changes if necessary. As the number of LinkedIn members grow, it will become imperative that people find you and your freelance business.
Even amid the sea of profiles using the same buzzwords, your summary needs to be authentic; a truer-than-life story that sells your brand. Make it so riveting that people can't help but be inspired to find out more about you and what you have to offer.
What LinkedIn strategies do you use to supercharge awareness of your business or freelance skills?