How do I add a project's recorded hours to an invoice?
If you have tracked time for a project and you'd like to add those recorded hours to an invoice your first step is to create a new invoice for the project.
Click on the green Create menu in the top right of your screen and select New Invoice.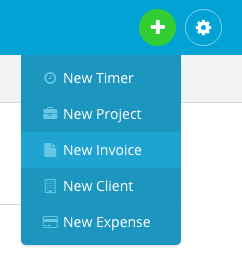 You'll now be presented with the New Invoice screen. Make sure the correct client and project are selected on the invoice.

Now you'll be able to add any recorded hours to the invoice by selecting the Add Recorded Hours option. You'll find this link below the invoice's line items.

Selecting this option triggers an overlay which lists all of your unbilled, recorded hours for the invoice's project.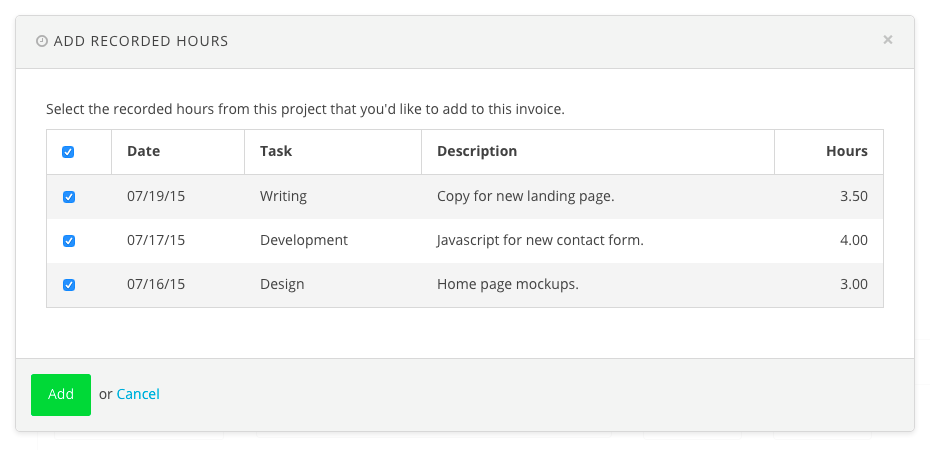 You can select one or more line items in the overlay, hit Add, and your recorded hours appear as line items on your invoice, neatly formatted with the date, task, and description for each item.

Harpoon then automatically tracks which recorded hours have been added to invoices by giving those hours a status of "Billed" on your Project Details screen. It's an easy way to see at a glance which hours you've already billed for vs. which hours remain unbilled.

To learn more about the details of time-tracking view the Time-Tracking support articles.