Can I download a PDF of an invoice?
Yes. You can download of PDF of any invoice by visiting the Invoice Details screen for the invoice and clicking on the Download PDF action in the Actions panel.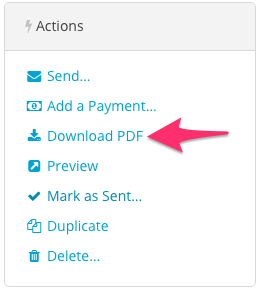 Note: If you opt to send your client a PDF of an invoice via your own email app instead of using Harpoon's Send action Harpoon will not be able to track if/when the invoice has been viewed.
To learn more about invoicing visit the Invoices support articles.