How do I track time for a project?
You can track time for your projects by using Harpoon's timers, or by manually adding your hours to Harpoon. First let's cover how to use a timer.
Timers
You can manage time-tracking timers by visiting your Timers screen. Here you can start using an existing timer, or create a new blank timer by clicking the "Create New Timer" button in the upper right of the screen.

You can use a timer as follows:
Description: Provide a short description of what you're working on.
Project: Select the project that you're working on. This will cause your tracked time to be associated with this project.
Task: Select the task category you're working on for this project. These task categories can be customized on your Time Tracking Settings screen.
Ticker: If the timer is running this field will automatically update with the current amount of time tracked. Or you can click on the ticker to manually type in an amount of hours (the timer must be paused to do this).
Start/Pause: This button allows you to start and pause the timer.
Once you're ready to log your tracked time make sure the timer is paused and click the Log Time button on the timer. The timer will give an indication that your tracked time has been logged. The timer will be cleared out and can be used again.
Note: You can have multiple timers on the screen at the same time. This is handy for when you jump between multiple projects and/or tasks throughout the day.
Adding Hours Manually
If you'd like to bypass using a timer and just want to record your hours manually you can use the "Add Hours Manually" button in the upper right of your Timers or Time-Tracking History screens. This will provide a quick entry form for manually recording your hours: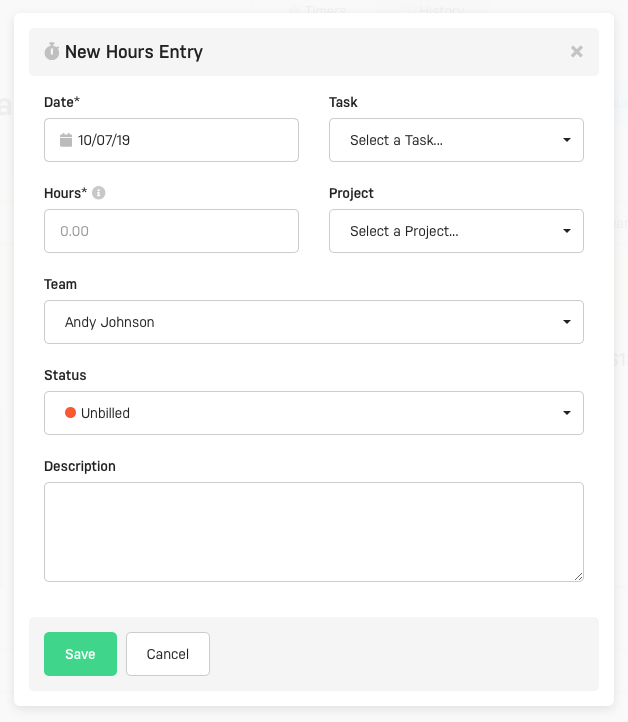 Time-Tracking History
To view a history of your logged time-tracking entries you can view your Time-Tracking History screen. Your Time-Tracking History screen is where you can view, filter, edit, and organize all of your account's recorded hours entries.
Note: Mac users can also use Harpoon for Mac, a desktop menubar version of Harpoon's timers.
To learn more about the details of time-tracking view the Time-Tracking support articles.